The DSD difference...
No deposits

No amendment fees

Real theme park tickets

Worry free guarantee
Sunrise Balloon Adventure from Port Douglas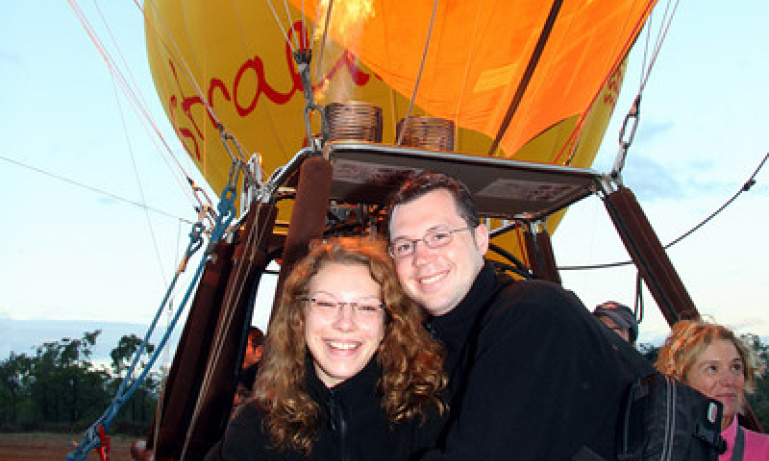 Enjoy the serene and uplifting experience of hot air ballooning as dawn breaks over the spectacular Australian bush. Rise up and float over the scenic Atherton tablelands with its rainforest fringed mountains and tranquil country landscapes.
Rise early and head through the bush in pre-dawn darkness towards the launch site.
As the sun rises over the diverse Cairns Highlands, watch your balloon slowly come to life and then gently lift off to enjoy unrivalled panoramic views of this tranquil wilderness at dawn.
The balloon takes off, rises up and float over the scenic Atherton tablelands with its rainforest fringed mountains and tranquil country landscapes with views of gum trees and kangaroos. Enjoy the picturesque landscape at dawn and breathe in the wide-open spaces.
Your scenic flight will last 30 or 60 minutes depending on the selected option (the 60 minutes is taken as 2 x 30 minute flights).
Experience Includes
Pick-up and drop off from all major Port Douglas hotels
Detailed safety briefing
Spectacular Hot Air Balloon ride
Services of an experienced pilot
Cross country balloon chase
Fun pack up games
Commemorative certificate
Civil aviation insurance
Experience Excludes
Optional gratuities
In-flight photographs
Ballooning souvenirs
Breakfast
Start times
Approximately one hour before sunrise - exact time will be confirmed locally.
Additional information
Are the balloon flights at sunrise? Will I see the Sunrise?
Hot Air Balloon flights in Australia are at dawn because this is the time of day that provides the optimum weather conditions for launching balloons. Depending on many operational factors, which vary each day, passengers may be on the ground during inflation or in the balloon when the sun is actually coming over the horizon or rising. Viewing of "Sunrise" is therefore not guaranteed, as different people have a different perception of what this is likely to be. Although, either way, the Australian sky during the first hour of light is always amazing and you will see an amazing dawn.
Does it fly over the Great Barrier Reef? Can you see the Great Barrier Reef from the balloon?
The balloon flies over Mareeba on the Atherton Tablelands, not over the Great Barrier Reef. Mareeba is a perfect place for hot air ballooning, just over one hour drive from Cairns.
What happens if tour is cancelled due to bad weather?
If your Cairns Sunrise Balloon Adventure is cancelled due to bad weather, you will be given the option to rebook for another day locally, or to receive a full refund. There's a very high take-off rate and Cairns is one of the best locations in the world for reliability & hot air ballooning.
Is there a weight limit? What is the weight limit?
There's no weight limit for the Cairns Sunrise Balloon Adventure. However, it is a Civil Aviation Safety Authority (CASA) and company requirement that Passengers flying with the Operator must be able to climb INTO the basket unaided, so that in the event of an emergency passengers are also able to climb out of the basket unaided. The side of the basket is approx. 1.2 metres high with two footholds for Passengers to use like a ladder when climbing into the basket. The Operator's staff will be in attendance to supervise Passengers climbing into the basket but are not allowed to actively assist Passengers into the basket. The Pilot in command will make the final decision on whether a passenger is able to climb into the basket unaided and therefore travel on the balloon flight.
How can a small child see in the balloon? Is there a height limit?
There is no height limit for flying. The basket is approximately 120cm high, there are a couple of footholds on a side of basket and small children can have views through those holes. The minimum age for a child to fly is 4 years.
Do I have to wear shoes on the Hot Air Balloon?
Yes, shoes are required for the safety of all our passengers and staff. We recommend wearing flat enclosed shoes for your balloon ride.
What do I bring on a morning, hot air balloon adventure?
Dress as for a casual walk in the bush, sensible sturdy shoes are recommended. We suggest you bring sunglasses, a hat/cap and dress in layered clothing. During the morning as the sun comes up, the day will become warmer. Remember there is so much to see from an entirely new perspective, you will want to record it all to relive later, your own camera or video camera are welcomed on board. Don't forget your cash or credit card (M, V) for that extra special souvenir of your fantastic hot air balloon experience.
What about Vertigo - I hate heights?
A Hot Air Balloon flight is very gentle and stable and because you start from the ground and gently lift up, rather than looking off the edge of a building. We recommend you try it – so many of our passengers attest to how surprised at how comfortable and safe they felt flying with Hot Air.
Terms & Conditions
All pick-up and drop off times are approximate and seasonal and will be confirmed upon booking.
Children 0 to 2 years inclusive are not eligible to fly.
Proof of age is required for children aged 3 to 5 years inclusive.
Wear casual outdoor layered clothing suitable for a bush environment (white clothing not recommended). Enclosed footwear is compulsory.
In the event of inclement weather, flight will be cancelled but can be rebooked for another day. If unable to travel on alternative day, full refund applies.
Meals, ballooning souvenirs and in-flight photographs are not included.
It is a Civil Aviation Safety Authority (CASA) and company requirement that Passengers flying with the Operator must be able to climb INTO the basket unaided.