Discover...
Dubai
The DSD difference...
No deposits

No amendment fees

Real theme park tickets

Worry free guarantee
About Dubai
Welcome to Dubai
Dubai at a Glance!
Dubai is an Open Sesame to Arabian adventure. Once a tiny fishing village, harvesting pearls from the sea, it is now the most sophisticated city on the Persian Gulf - thanks to the rich flow of black gold.
Oil has transformed the skyline, overshadowing romantic mosques and elegant minarets with a forest of avant-garde high-rise buildings often with fabulous sail motifs. Oil has eclipsed the old port full of lateen-rigged Arab dhows with the world's largest artificial harbour, visible from outer space. Oil has made the desert bloom – locals claim that 70 per cent of the cranes on earth are hard at work in Dubai.

All this makes it one of the most exciting tourist destinations in the world. You can still experience the authentic Bedouin heritage, from kite-flying festivals to horse and camel races. You can enjoy Arabian Nights souks (bazaars) and oases of wild life such as water-bird sanctuaries or desert parks containing leopard, oryx, ibex and gazelle. You can revel in clean, safe and golden beaches, shaded with palms by day, enchanting at night because of the blue-green phosphorescent glow from millions of microscopic sea creatures.
But what makes Dubai such a fantastic resort is that it also offers a host of modern – even futuristic – attractions. The most challenging is an indoor ski slope set at -2C in the +40C desert! Coming soon is a $3 billion theme park called Dubailand, which will rival those of Orlando, an underwater hotel, and two man-made, palm-shaped islands full of luxury resorts and homes fit for princes and football stars.
Meanwhile there are gleaming shopping malls which sell cheap gold and fast cars. There are palatial places to stay, exotic places to eat and challenging things to do – scuba-diving and snorkelling amid the coral, seeing new Dubai by boat or helicopter, and going on an overnight, 4x4 sand safaris to old Dubai.
To make the most of your thrilling Arabian adventure, pre-purchase an attraction or experience in Dubai with Dosomethingdifferent.com
Top Tip
Top Tips
No trip to Dubai is complete without some great pitcures of the Burj Al Arab - for some of the best views, head to the 360 bar at the adjacent Jumeirah Beach Hotel.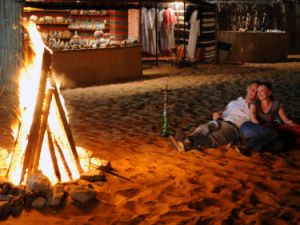 Riding in a luxury 4-Wheel Drive vehicle, experience the wild majesty of the Arabian Desert as you enjoy the thrill of 'dune bashing' – an exciting rollercoaster-of-a-drive over giant sand dunes.
Accompanied by an experienced dune driver, race up giant sand dunes and plunge over blind precipices, provoking shrieks and laughter in equal measure! At sunset, head to the largest dune to watch...
This extended version of the Desert Safari and Sunset Barbecue tour offers an incredible experience to spend a night in the desert under a blanket of stars. Quite simply unforgettable!
Adult from Not available
Child from Not available
Dubai
The scenic drive along the East Coast will take you through the agricultural lush oasis of Al Dhaid, renowned for its fruit and vegetable plantations, before the colourful desert gives way to spectacular mountain scenery.
Your journey takes you past several fishing villages that look as though they have not changed for centuries.
Wander around the old village of Dibba and enjoy the stunning views...
Drive away from the hustle and bustle of city life to explore the diverse beauty and natural ruggedness of the East Coast which includes the barren mountain range of Hajar and the unspoiled, golden sands that run along the sun-drenched Indian Ocean.
Adult from Not available
Child from Not available
Dubai