The DSD difference...
No deposits

No amendment fees

Real theme park tickets

Worry free guarantee
Wet 'n' Wild Gold Coast 1 Day Ticket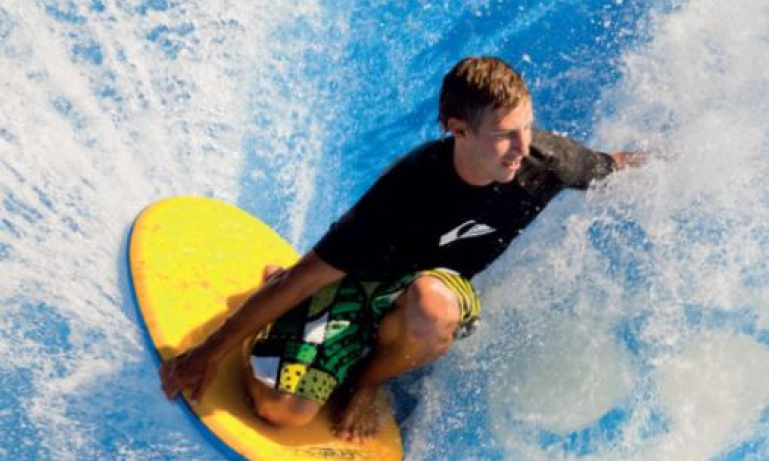 For the young and the young at heart, Wet 'n' Wild is a world of fun for everyone.
Wet'n'Wild Water World combined with the Gold Coast's sub-tropical climate provides the perfect setting for a splashtacular day out. With all pools and slides heated during the cooler months guests can enjoy a splashtacular day out all year round.
Extreme H2O Zone Kamikaze: Kamikaze is a unique combination wet/dry attraction and the first of its kind in the southern hemisphere. Water spray jets provide a frictionless surface on the giant U-shaped slide as rafts are channelled effortlessly to the bottom. It's great fun for all the family.
Tornado: The awesome Tornado is an enormous thrill slide offering adrenaline addicts the ultimate extreme aquatic experience. It's Mad'n'Massive!
Blackhole: Standing over the Extreme H2O Zone is the Blackhole, a swirling tangle of black tubes that put fear into the hardest thrill rider. The Blackhole features two fully enclosed slides that catapult riders into pitch black spirals of darkness. You don't know which way you're turning next, and you don't see a thing until you hit the final splashdown!
Mack 5: The Fast'n'Furious Mack 5 has Wet'n'Wild's two longest slides where you can slide down over two hundred metres of twists and turns in open air flumes. The longest and fastest water slides at Wet'n'Wild, the Mack 5 is made up of five separate high energy slides.
Aqua Loop: The new ride AquaLoop' begins when the trap door is released and the rider plummets, accelerating into a massive vertical free fall drop and then up into a transparent looping slide! The slide is gut wrenching, heart-pounding and gravity-defying and takes riders to speeds of up to 60 kilometres per hour.
Surfrider: Ever wondered what it's like to ride some of the biggest waves in the world? This ride delivers the experience with major thrills as you plummet 30 metres while spinning on a giant surfboard Insane!
Whirlpool Springs: These awesome cold spas will help you cool off and chill out after a hot session on Wet'n'Wild's Biggest'n'Best rides. Whirlpool Springs is a seasonal attraction.
Whirlpool Hot Springs: Featuring ten twenty-person hot tubs heated to an amazing 36 degrees Celsius, guests will experience the ultimate in relaxation and indulgence in their blissful warm waters. Whirlpool Hot Springs is a seasonal attraction.
Buccaneer Bay: the ultimate kids' zone full of colour and cool interactive elements. The multi-level attraction has an elaborate pirate theme taking children into an imaginative and exciting world offering hours of entertainment. There are also exciting purpose built children's slides within the all-new Buccaneer Bay completing the water park experience for the under tens at the ultimate kids' zone.
Mammoth Falls: The Mammoth River Ride features 4.5 metre wide troughs winding over more than 200 metres of white water rapids and ridden in giant six-person tubes.
Super 8 Aqua Racer: Race your friends and have some fun reaching speeds of up to 40 kilometres per hour. Custom drag lights and timing technology make the Super 8 Aqua Racer one of the most advanced racing slides in the world!
River Rapids: With a Rocky Mountain theme, Wet'n'Wild's newest attraction features four new body slides with something to please everyone. Speed fanatics will love the two new enclosed slides while the open air flumes are perfect for the kids.
Giant Wave Pool: With gently rolling waves in the shallows and constant lifeguard supervision, guests of all ages can hit the surf in safety. There are also inflatable tubes for hire from the Beach Hut.
Calypso Beach: Lie back and relax on the soft tubes as the slow-flowing river takes you through lush sub-tropical gardens, a Caribbean shanty town and the remains of a pirate castle. Or just find a spot in one of the shady beach retreats. Calypso Beach is a seasonal attraction and will be closed for the winter season.
FlowRider: Guests can ride the endless waves, rushing down the man-made torrent of water on a specially designed board.
Dive'n'Movies: Dive'n'Movies provide the most amazing outdoor cinema experience with a giant 15 x 10 metre screen and an awesome surround sound system. Dive'n'Movies are included in the normal admission price and screen every Saturday night in December (excluding 25 December) and every night from 27 December until 22 January. Some slides and pools remain open until the park closes at the end of the Dive'n'Movie screening.
Experience Includes
1 day admission to Wet 'n' Wild Gold Coast
Experience Excludes
Food, beverages, gifts or photo purchases.
Departs
Daily, except 25 April and 25 December.
Start times
Park is open from 10.00am to 5.00pm.
Terms & Conditions
Children and infants must be accompanied by an adult at all times.
Different rides have various height and age restrictions.
Some attractions do not operate in poor weather conditions.
Children aged up to 2 years of age get access to the park free of charge.