The DSD difference...
No deposits

No amendment fees

Real theme park tickets

Worry free guarantee
SeaWorld Parks 3 for 2 Ticket with Unlimited FREE Parking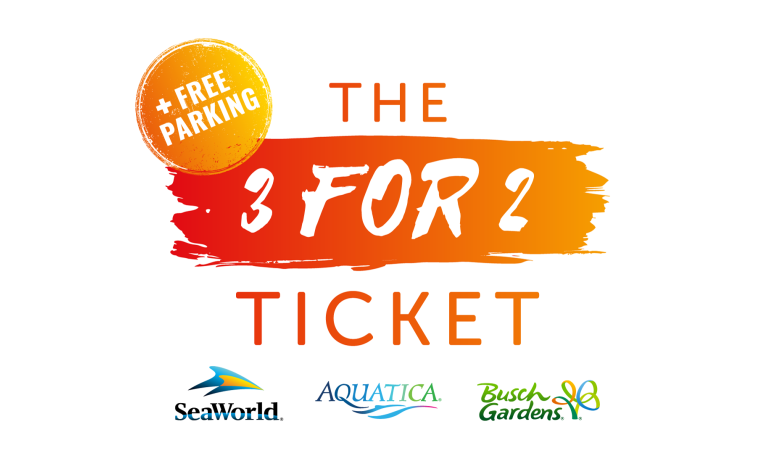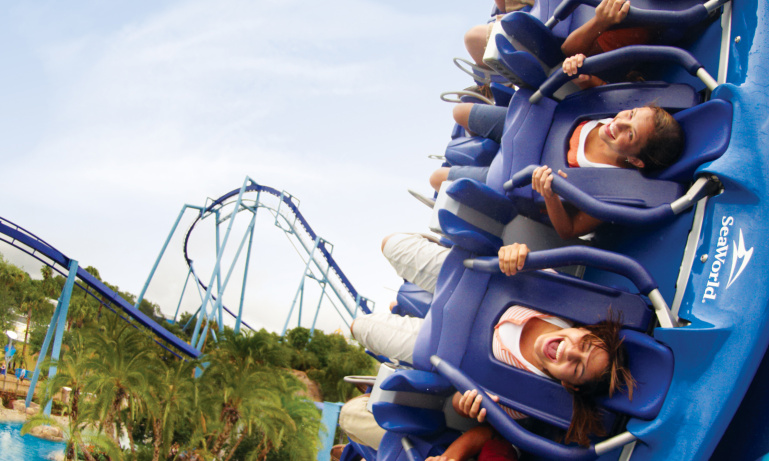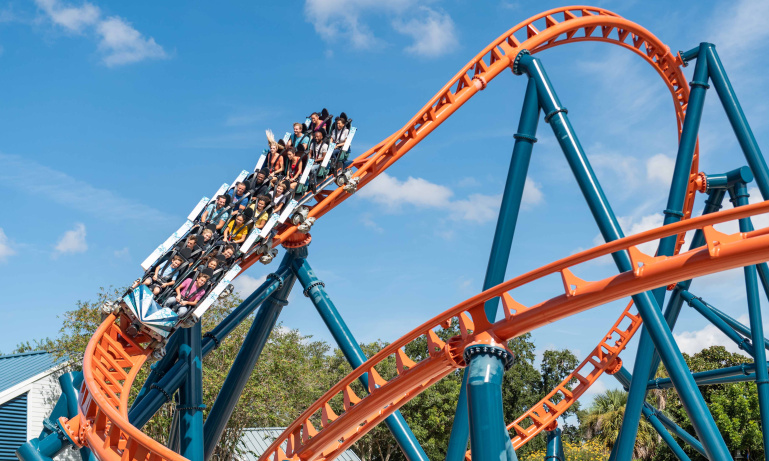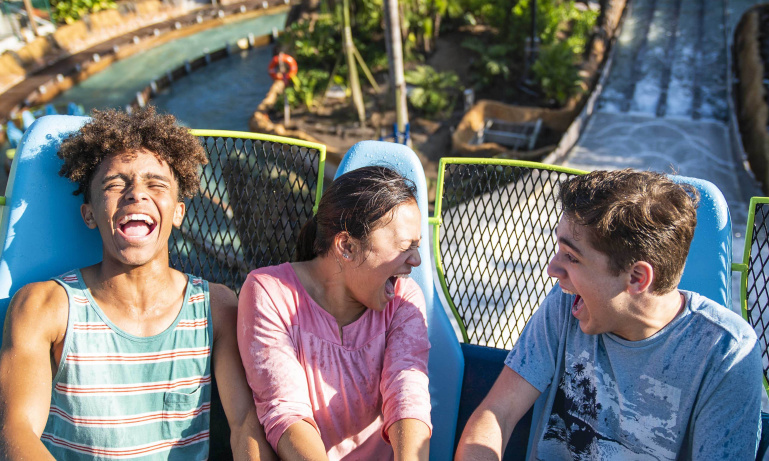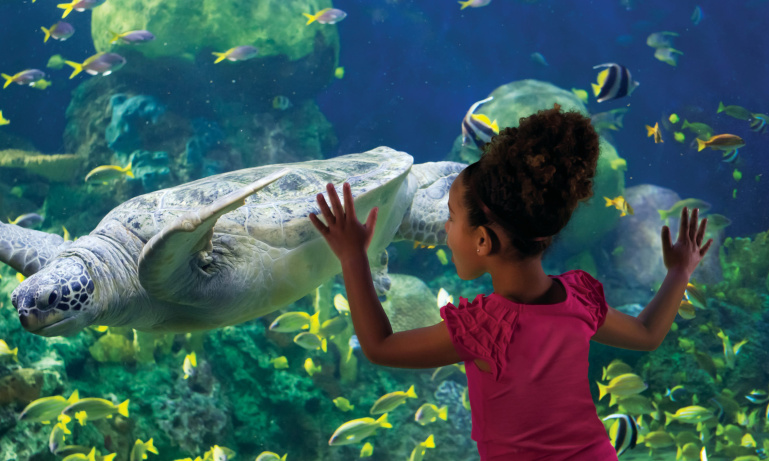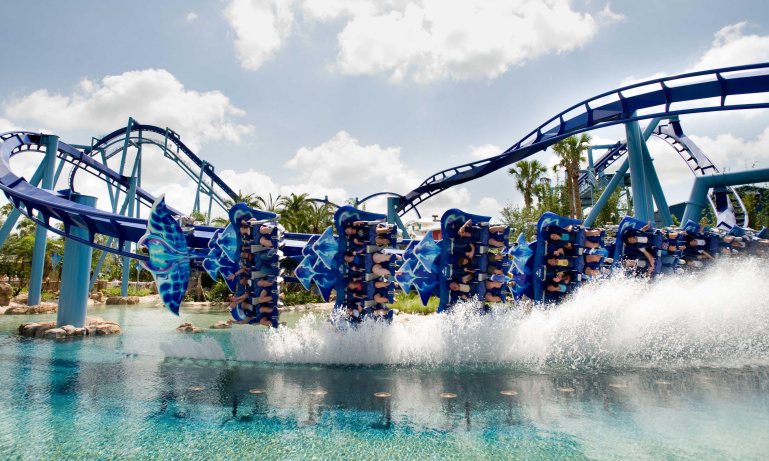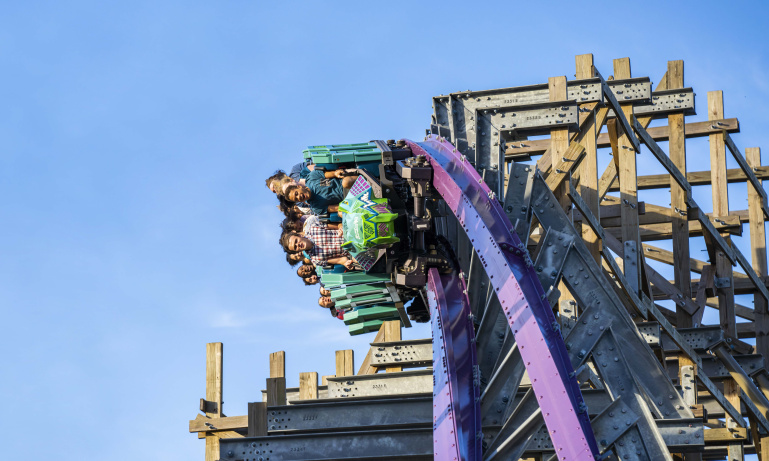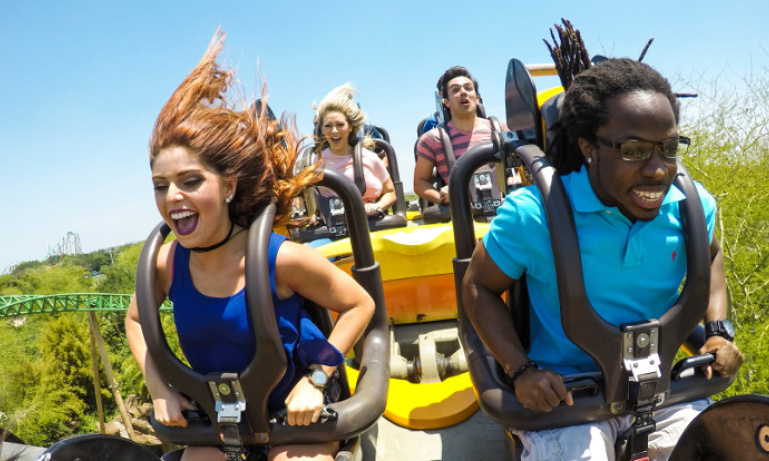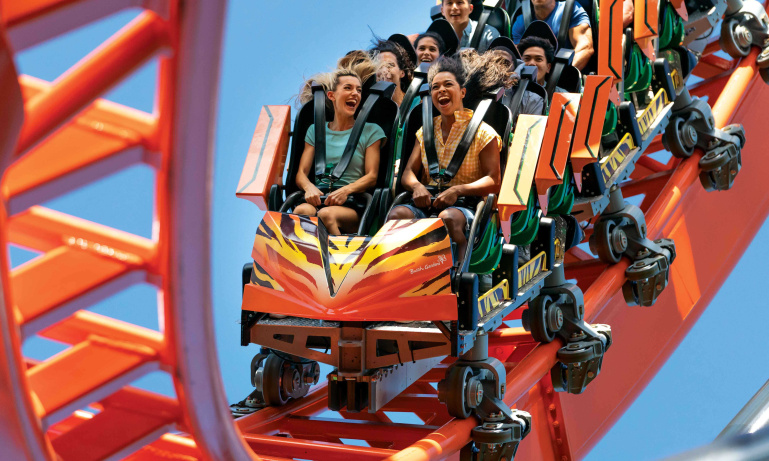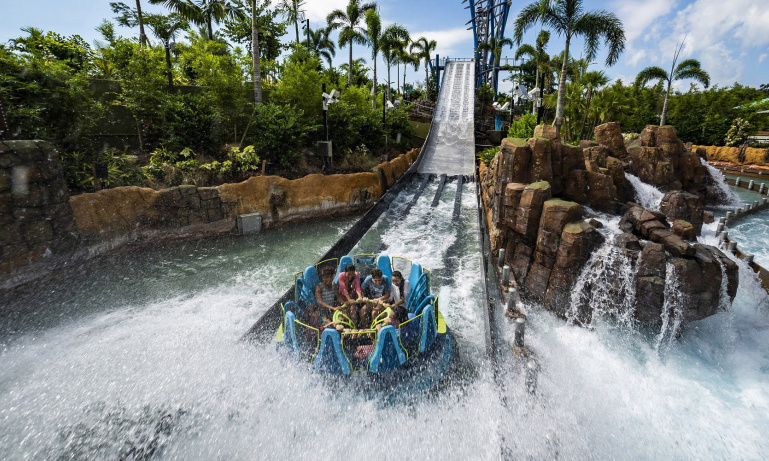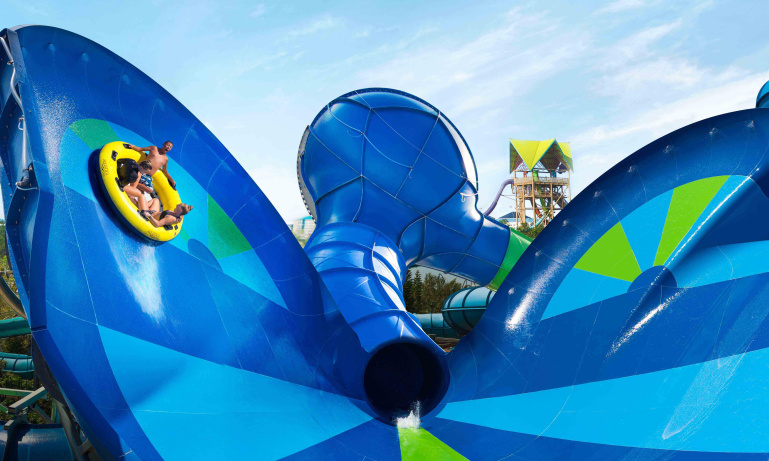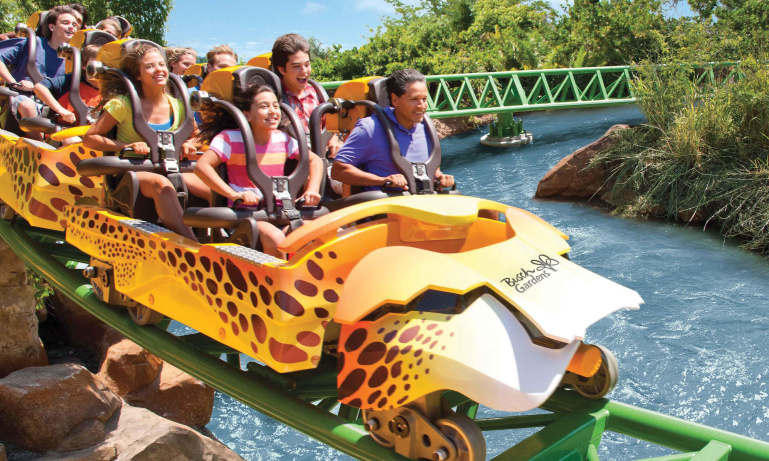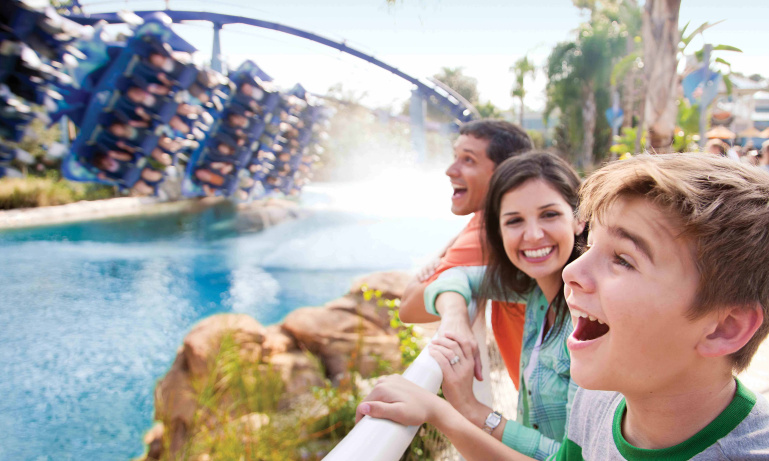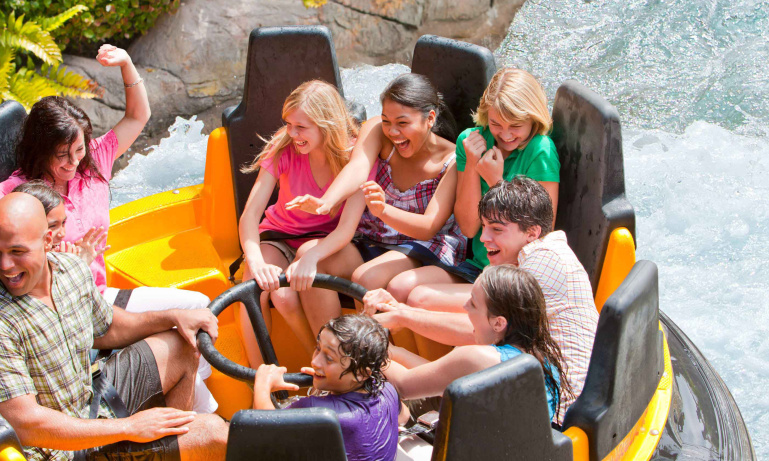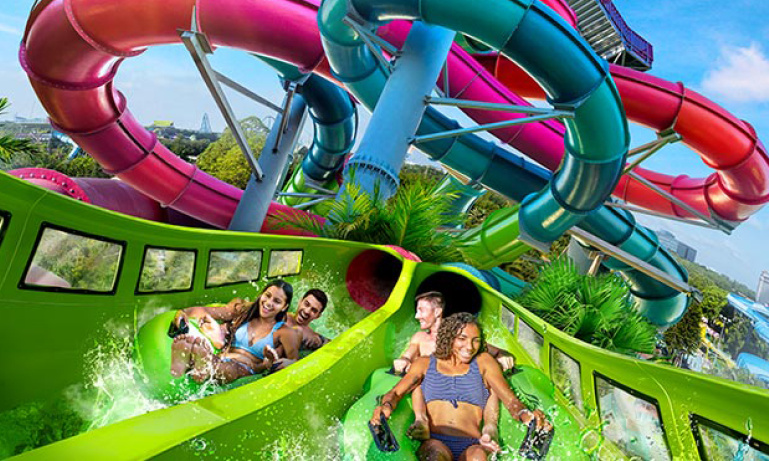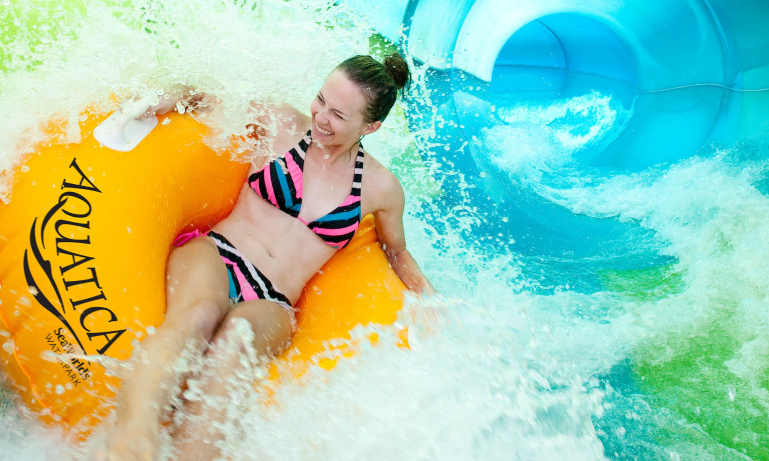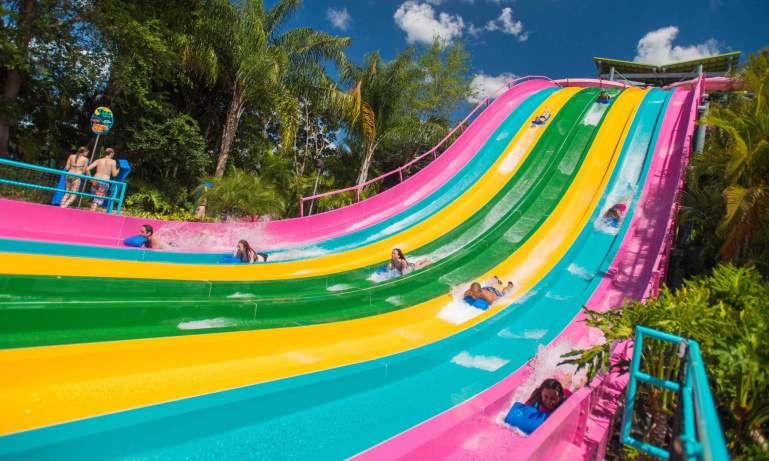 Enjoy admission to three of Florida's best-loved attractions and huge savings on the gate price. PLUS book today and Enjoy UNLIMITED FREE PARKING at all three parks! Enjoy a thrill ride on Florida's tallest launch coaster.
The great value 3-Park SeaWorld, Aquatica and Busch Gardens Ticket is now the same price as a SeaWorld Parks 2-Park Ticket and cheaper than the cost of 2 single-day admissions! Plus if you haven't seen and done it all or simply wish to return and re-visit your favourite parks, the ticket offers unlimited admission to all 3 parks for up to 14 consecutive days, ensuring you do not miss any of the fantastic rides and attractions.
With a host of sensational rides, shows and attractions that put you right at the heart of the marine world, SeaWorld feels like an ocean adventure worthy of the seven seas. Meet amazing marine animals and jump into their world on thrilling attractions and shows. Feel the power of the world's fastest shark on Mako, Orlando's tallest, fastest and longest coaster. Embark on a deep-sea mission inspired by the mythical underwater beast on Kraken and don't miss Manta and fly face-down through sea and sky on this smooth, floorless coaster. Journey past drenching waterfalls to unearth the secrets of the lost rainforest river on Infinity Falls, but you'd better hold tight because those roaring rapids might just send you over the world's tallest river rapid drop! Take a seat at the sensational shows including Orca Encounter, set to inspire, educate and showcase spectacular whale behaviours that will leave you with a deeper understanding of these magnificent animals and Dolphin Days, an immersive and educational glimpse into the world of the ocean's most playful ambassadors, the Atlantic bottlenose dolphin. For the chance to feel the majestic grandeur of the South Pole and see it through the eyes of penguins head to Antarctica: Empire of the Penguin. This first-of-its-kind family ride transports guests into a rarely seen, icy world and new for 2022, join an arctic adventure on Ice Breaker, SeaWorld Orlando's first launch coaster featuring four airtime launches and boasting the steepest beyond-vertical drop in Florida!
If anyone knows water and parks, it's SeaWorld. So their waterpark must be something special, right? Aquatica is all of that and more, where fun is as endless as the sea itself. A splashy, watery park full of super-sized slides, speedy splashdowns and sandy shores including Dolphin Plunge which will send you speeding past black and white Commerson's dolphins, to tranquil and rapid rivers and relaxing on white-sand beaches. Prepare for an adrenaline-rushing, one-of-a-kind experience like no other on Ihu's Breakaway Falls. Standing at nearly 80-feet tall this is the world's longest drop tower multi-slide ride of its kind. Riders step into one of three clear 'breakaway boxes' at the top of the ride where they face each other – not knowing who will drop first – before the floor disappears and they plunge down at a rate of 20 – 24 feet per second. Grab your raft for Ray Rush and let a powerful water jet launch you into
an enclosed tube. Spin and splash up the walls until you drop into an open-air slide shaped like the curved wings of a manta ray. Glide on the ray's wings before making an epic splashdown finale. You'll splash, scream and laze at this beautiful South-Sea inspired paradise.
Florida's wildest rides live at Busch Gardens. This 335-acre adventure park allows you to come within a whisker of some of the world's rarest animals and
inhabit their world. Trek, plunge, chase and spin on plenty of hair-raising attractions and rides including Jungala showcasing some of the world's most endangered animals, Bengal tigers and orangutans. Enjoy a thrill ride on Florida's tallest launch coaster, Tigris and catapult through twists, daring drops, a 150-foot skyward surge, and a thrilling inverted heartline roll as you mimic the awe-inspiring agility of the world's most powerful cat – the tiger. Then there's the floorless dive coaster, SheiKra taking you 200 feet up, and 90 degrees straight down at speeds of up to 70 mph! Falcon's Fury takes guests' experiences to new heights. The first drop tower of its kind in the world mimicks the dive speeds of the fastest animal on earth - at the ride's highest point riders pivot 90 degrees in midair to a face-down dive position. An instant later you'll plunge 60 mph at 3.5 Gs straight down with speed and power as you've never experienced before. Making its debut in 2022 is Iron Gwazi, the tallest hybrid coaster in North America, and the fastest and steepest in the WORLD! Get as close to the wild as you dare at Busch Gardens!
Additional Ticket Benefits
Unlimited FREE Parking at SeaWorld, Aquatica and Busch Gardens for the duration of your ticket.
FREE Coach Transportation to Busch Gardens from Orlando aboard the Busch Gardens Shuttle Express. The shuttle runs daily and picks up from SeaWorld and various locations in the International Drive and Kissimmee areas. Pick-up time is between 8.30am and 9.00am depending on location and the return time from Busch Gardens varies through the year depending on the Busch Gardens closing time.
Experience Includes
Gate-ready ticket offering instant entry to all featured parks - use your ticket to bypass the ticket and voucher lines
Unlimited access to SeaWorld Orlando, Aquatica and Busch Gardens Tampa Bay for up to 14 consecutive days.
Flexibility to visit more than one park in a day
Unlimited FREE Parking at SeaWorld, Aquatica and Busch Gardens for the duration of the ticket
FREE coach transportation between Orlando and Busch Gardens aboard the Busch Gardens Shuttle Express for those not wishing to drive to Tampa Bay
Additional information
All customers must be resident in the UK, Ireland or Europe to purchase this product as DoSomethingDifferent.com will send you an actual park ticket in the post. This means you can go straight into the parks without queuing to redeem a Ticket Voucher. Tickets will be dispatched 3-4 weeks prior to your client's Departure Date from the UK.
As you will be sent the actual ticket, we advise that you store it in a safe place prior to travel and take a photocopy of serial number(s) on the reverse. In the event that it is lost, this will enable the park to reissue the ticket(s).
Tickets will be dispatched by DX Courier Service. If you are travelling in less than a week, we can offer an Express Delivery Service for an additional fee, subject to ticket availability. Please either call our Customer Service Line on 0208 090 3790 to book UK Express Delivery.
Terms & Conditions
The SeaWorld Parks 3 for 2 Ticket with Unlimited FREE Parking gives you 14 consecutive days unlimited admission to SeaWorld, Aquatica and Busch Gardens.
Tickets are activated the first time you visit one of the included parks and expire after 14 days irrespective of how many times it has been used.
The SeaWorld Parks 3 for 2 Ticket is only valid to use in the calendar year selected e.g. 2022 tickets must be activated on or before 31 December 2022.
Children 0-2 years are free of charge and do not need a ticket.
Unlimited free parking is only valid for the duration of your ticket. This offer can be withdrawn or changed at any time without notice.
Free transportation to Busch Gardens from Orlando on the Busch Gardens Shuttle Express is included for the duration of your ticket. Reservations are required to guarantee your seats and can be made in advance by calling 1-800-221-1339. The shuttle departs from SeaWorld and picks up from various locations in Orlando and Kissimme. The service schedule will vary through the year and may be subject to change.
Cancellation Policy:
| Number of Days prior to your Holiday Departure Date | Cancellation Charge Per Ticket Cancelled |
| --- | --- |
| 38 days or more (before tickets are dispatched) | FREE |
| 37 to 1 day | 10% |
| Post Departure | 100% |
Refunds can only be issued once tickets have been returned to us by secure delivery and are in the same condition as they were sent i.e not defaced or damaged in any way.