The DSD difference...
No deposits

No amendment fees

Real theme park tickets

Worry free guarantee
Sea World Australia One Day Ticket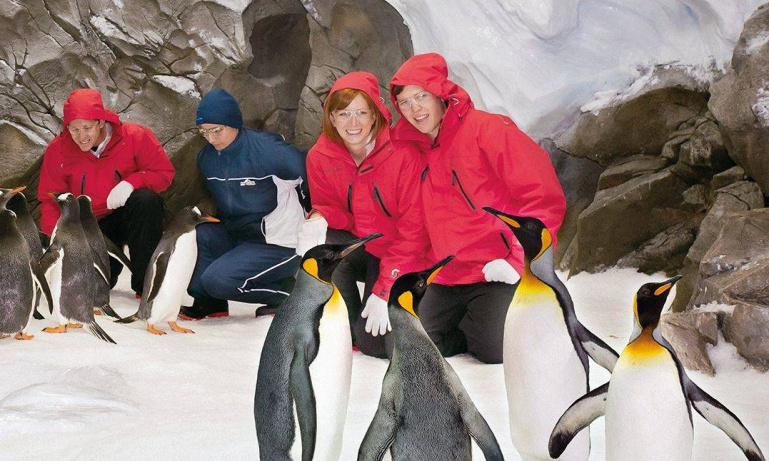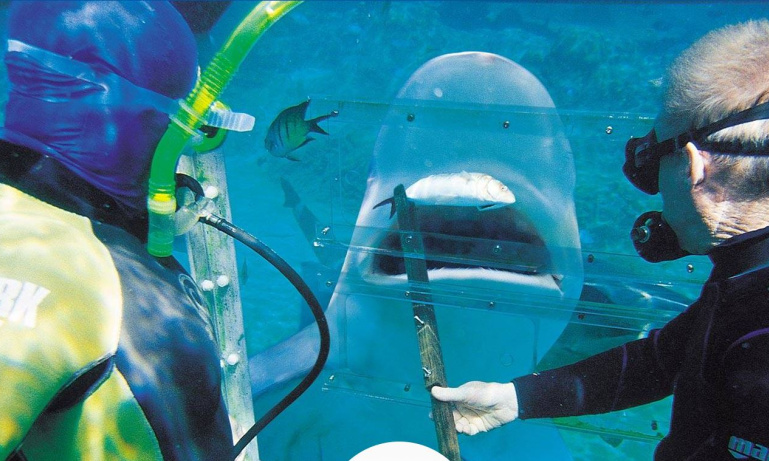 Make contact with marine life wonders and experience a whole world of amazing rides, shows and attractions at Sea World Gold Coast.
The multi-award winning attraction combines the amazing world under the sea with a whole world of fun to provide a full day's exciting entertainment for people of all ages.
Marine Attractions:
Shark Bay: Get up close and personal at Shark Bay at Sea World! Shark Bay is the world's largest man-made lagoon system for sharks and houses some of the most awe-inspiring of the species in an innovative exhibit. Shark Bay comprises of three main zones all allowing for unsurpassed viewing and interaction, including a touch pool, a snorkel and dive lagoon and a shark lagoon housing the world's most feared sharks.
Polar Bear Shores: Come and see Australia's only Polar bears in their home at Sea World's Polar Bear Shores - one of the most technologically advanced exhibits for Polar bears in the world. Sea World adopted two orphaned Polar bear cubs, Hudson and Nelson, who were found in the wilds of Canada and have been taken into care at the naturalistic and enriching Polar Bear Shores. Guests can visit the cute and playful bear cubs along with their newest friend, Lia. All bears are housed at Polar Bear Shores, featuring the tundra environment of the Arctic summer in a state-of-the-art display. With a cascading waterfall and a winding creek, a large main pool that is up to four metres deep to encourage deep and shallow diving, an array of climbing outcrops, fallen trees, shrubs and other structures and a strategically placed rock platform enabling long distance viewing across the exhibit and beyond, Polar Bear Shores is a naturalistic environment which aims to constantly stimulate the bears.
Penguin Point: This wonderful new exhibit is currently home to 11 gorgeous Fairy Penguins, with more birds on their way from zoos around Australia. Penguin Point can house up to 60 birds and is a great attraction for the kids.
Ray Reef: Meet one of the ocean's most misunderstood inhabitants when you visit Sea World's all new Ray Reef. Be amazed at the majestic Rays as they showcase their graceful ability to manoeuvre underwater in their colourful Sea World home Ray Reef. Guests of all ages will be invited to feed, touch and observe these wonderful creatures in a truly interactive and educational exhibit.
Dolphin Nursery Pool: At the Dolphin Nursery Pool, Sea World's highly successful breeding program has resulted in recent dolphin births. Guests have the chance to see the young dolphins as they develop and grow under the protective watch of their mothers.
Rescue Point Lighthouse: Rescue Point Lighthouse highlights the features and achievements of the Sea World Research and Rescue Foundation. Guests can visit the lighthouse and view displays on some of the more interesting research projects the Foundation has funded and appreciate the variety of strandings Sea World staff deal with.
Seabird Rehabilitation Aviary: The Seabird Rehabilitation Aviary is designed to house both our sea bird collection and those under care and rehabilitation. Sea World's resident pelicans have a very successful breeding record; it is unusual to see pelicans breed on the eastern coastline of Australia, as they normally travel to inland lake systems to breed. Many of the sea birds housed in this area will never return to the wild due to severe disabilities which have been caused mostly by mans' ignorance and careless ways.
Sea World Animal Adventures: (available at an additional cost) Sea World Animal Adventures provide an exclusive opportunity to join Sea World's trainers in a unique interaction with the Park's animals. Our once-in-a-lifetime experiences include an opportunity to get up close and personal with sharks and marine life at Shark Bay, deep water and shallow water dolphin encounters for adults and children, land and water based interactions with our fun loving seals or spending a day learning how the trainers at Sea World look after and train our dolphins.
Rides:
Castaway Bay: Visit Sea World and experience a world of family fun in the all new Castaway Bay interactive adventure zone. The exciting new $6 million family attraction caters for kids of all ages and features an amazing themed ride and fun filled child friendly play areas. The kids will love the splashtacular Battle Boats ride with over 80 awesome water cannons. The little ones can climb, crawl and clamber their way through The Sky Fortress featuring five fun filled levels of rope bridges, tunnels and much more.
Jet Rescue: Join the Sea World Rescue team on an exciting mission to save our precious marine life on the all new Jet Rescue coaster. Climb aboard your Jetski and zoom around the amazing track, flying and twisting past pristine rock pools at an exhilarating 70km/hr. Then enter the dark and dangerous blowhole cave where a sea lion waits desperately for your help.
Sea Viper: Remember everyone's favourite rollercoaster, the Corkscrew? Sea World have given it a makeover to deliver an all new ride experience...Hang on to the edge of your seat in the new Sea Viper coaster - with exciting new low profile carriages, you'll experience thrills on the triple loop-the-loop track like never before.
Sesame Beach Street: Sea World brings the magic of Sesame Street to the Gold Coast! The new multi million dollar attraction features a host of rides, shows and attractions to entertain the young and old alike. Sesame Street Beach includes newly themed rides such as Bert and Ernie's Big Dive; Oscar's Sweep the Beach; Elmo's Sea Subs; Big Bird Bounce; Zoe's Sub Splash; and The Cookie Monster Cup Carousel.
Sky High Skyway: For a unique bird's eye view of the park, take the Sky High Skyway, which travels between the top of the park and Planet SOS in 4-D, right in the heart of Sea World's fun-filled attractions. The Sky High Skyway is an excellent way to view the parks many features including: Polar Bear Shores, Sesame Street Beach, the Dolphin Nursery Pools and much more.
Sea World Mono Rail: The Sea World Mono Rail was the first mono rail system in Australia and takes visitors on a scenic trip through the park. As an internal link with Sea World Resort, the Sea World Mono Rail is an excellent means of navigating your way around the park, with convenient stops at the top of Sea World and at the Water Park, as well as the Resort. Vikings Revenge Flume Ride: The Viking's Revenge Flume Ride is a favourite for all ages. Passengers embark on a 460-metre floating ride before a conveyor takes the Viking's boats to the battlements of the Castle for a fun-filled splash down.
Bermuda Triangle: The Bermuda Triangle is a million-dollar amazing adventure ride which combines a mind-boggling array of special effects and state of the art technology, animatronics, lighting and fibre optic technology. Guests willing to take a trip into the unknown, are briefed before boarding a "research probe", which whisks you away into the unknown. With plenty of action and thrills for the whole family this is one ride not to be missed!
Sea World Resort Water Park: The Sea World Water Park is now part of Sea World Resort - making it the only resort in Australia to offer its very own Water Park. Guests staying at Sea World Resort are able to enjoy free unlimited use of the expansive 1.6 hectare Water Park. Sea World guests have the option to upgrade their day pass to include use of the Resort's Water Park facilities for a small fee of AUD10.00 per adult and AUD5.00 per child (aged 3-13 years inclusive).
Shows:
Pirates Unleashed: Experience this all new, fun filled live action adventure as two rival Pirate crews find themselves in conflict, disrupting this once peaceful setting. Featuring impressive acts of physical endurance, acrobatics, precision cutlas play and much more, PIRATES UNLEASHED! is not to be missed. AGGRRRHH! We hope t' see you thar!
Imagine: An enchanting new interactive Dolphin Show has opened at Sea World's Dolphin Cove. Delight at this unique and wondrous presentation starring the world's most popular and endearing marine mammals. Set to a beautiful musical score and featuring a series of exciting interactions, Imagine is both educational and entertaining.
Fish Detectives: Sea World's all new show Fish Detectives follows on from the successful Quest For The Golden Seal' and sees the return of characters Buddy' and Clawde' in an all new comedic adventure. Big Al Baloney' rules the wharf and operates his fish store Alota Baloney' making big profits by depleting the harbours fish supply. Fish Detectives shows twice daily at Sea Lion Theatre only at Sea World.
Happy Feet 3D: Put on your dancing shoes and boogie with Mumble in the Happy Feet 3-D Experience at Sea World. Join Mumble on a journey of courage and bravery as he discovers that his toe-tapping talent isn't a burden, but a gift to be treasured - and his dancing feet may ultimately save his endangered colony! Featured in digital 3-D, this is an immersive experience for the whole family to enjoy.
Sesame Street Beach Stage Show: Come and see your favourite Sesame Street characters in a live Sesame Street Beach Stage Show- Bert and Ernie's Island Holiday! Sing and laugh with Bert and Ernie, Big Bird, Zoe, Grover, Cookie Monster and Elmo as they dance up a storm in Sesame Beach's Big Bird Theatre.
Planet SOS: Sea World's cutting edge 4-D presentation, Planet SOS, is an engaging animated adventure starring a selection of endearing and stunningly realistic animal heroes, as they cope with the changing conditions of their habitats: changes resulting from mankind's overuse of our planet's finite resources. Children will love the enchanting animal stars and the awesome, interactive 4-D effects specially designed to educate through entertainment.
Thunder Lake Stunt Show: Sea World has partnered with Australia's leading stunt crew, Showtime FMX on the new show which includes some of the best water-ski, jet-ski and BMX performers in the country and features world-class stunts, action and comedy on the iconic ski lake. The Thunder Lake Stunt Show will run twice daily at Sea World at 1.30pm and 4.15pm to give guests plenty of opportunities to see the best in non-stop action.
Experience Includes
One day admission to Sea World Australia
Polar Bear Shores
Dolphin Cove and Quest for the Golden Seal
Cartoon Network Cartoon Beach
Australia's first Monorail
Sky High skyway
Shark Bay
Henry (Polar Beach Club)
The Storm Coaster
Experience Excludes
Scenic helicopter rides and Sea World Animal Adventures - available at an additional cost payable direct.
Food, beverages, gifts or photo purchases.
Departs
Daily, except on Christmas Day.
Start times
Park is open from 9:30am to 5:00pm and the rides from 10:00am to 5:00pm
Terms & Conditions
Children and infants must be accompanied by an adult at all times.
Different rides have various height and age restrictions.
Some attractions do not operate in poor weather conditions.
Children aged up to 2 years of age get access to the park free of charge.