The DSD difference...
No deposits

No amendment fees

Real theme park tickets

Worry free guarantee
San Francisco Dungeon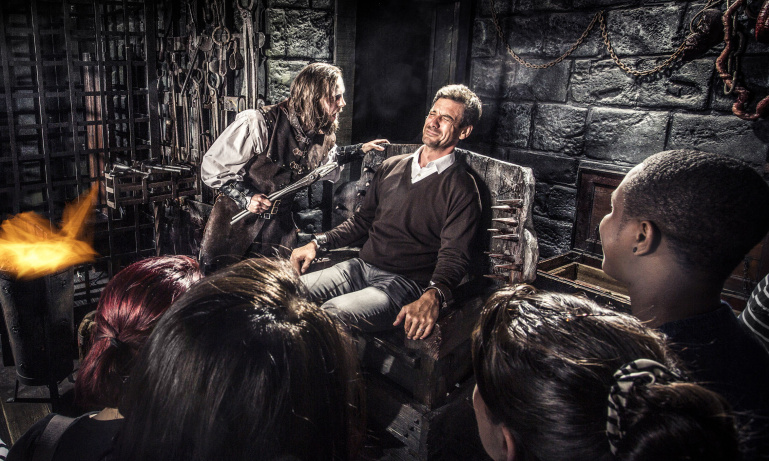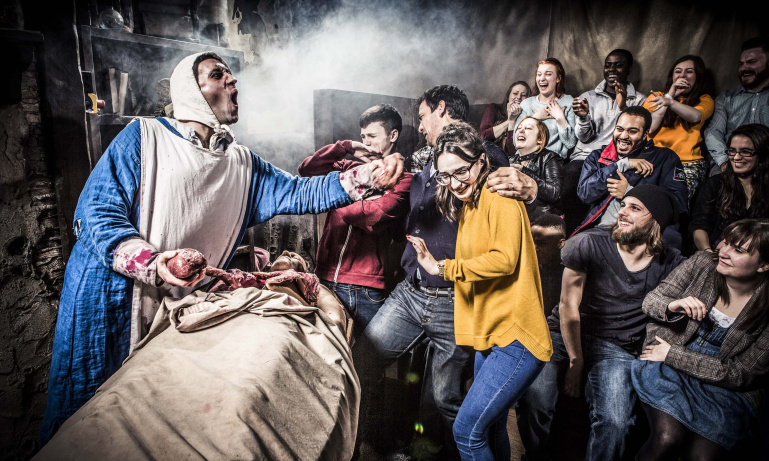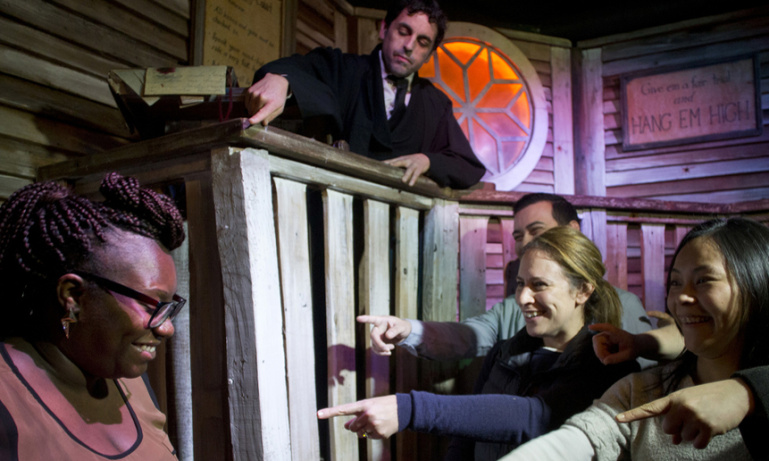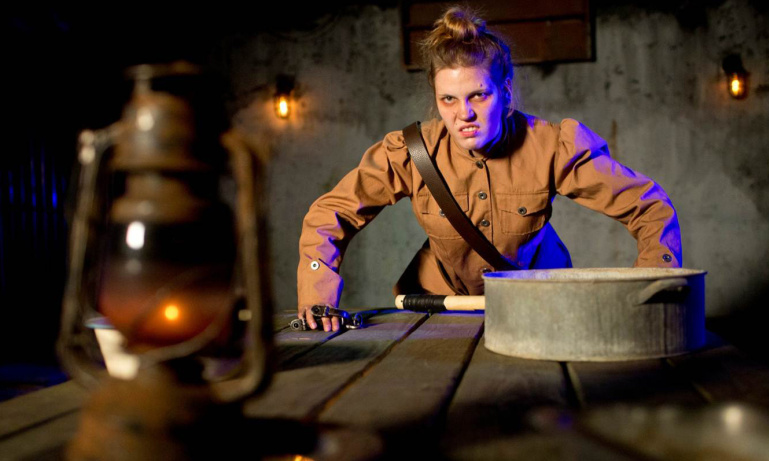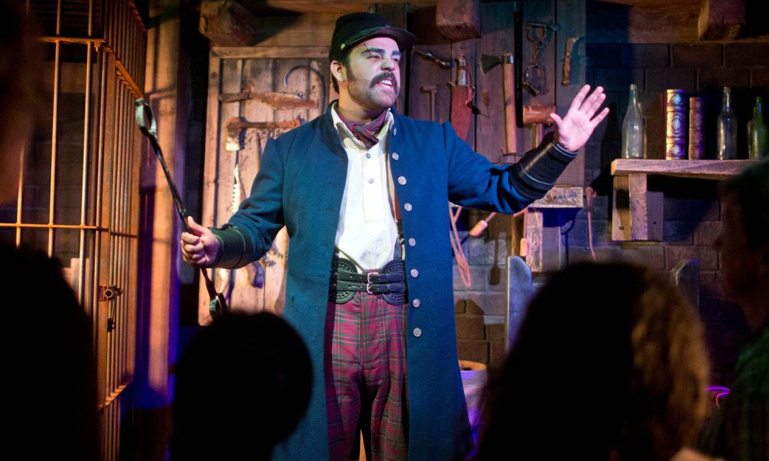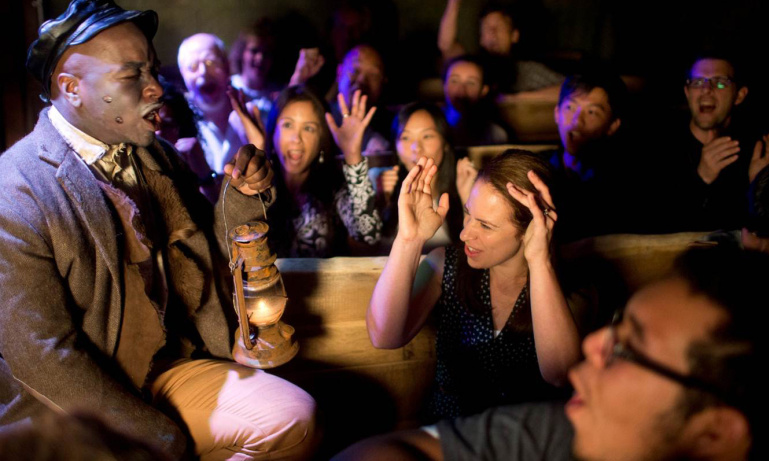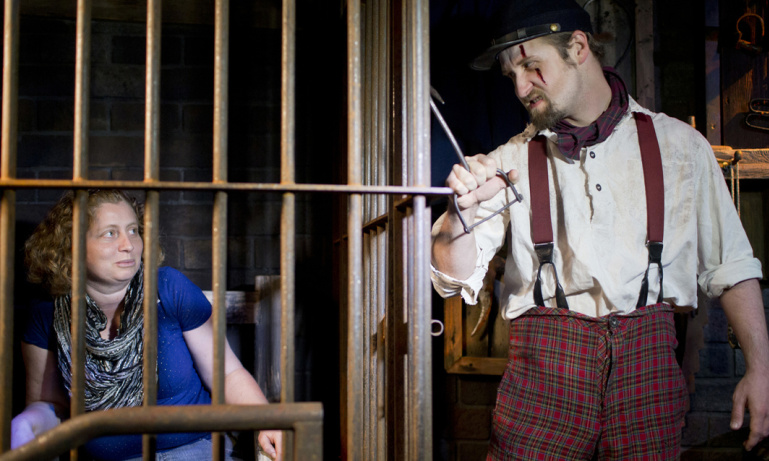 Located perfectly in Fisherman's Wharf, the San Francisco Dungeon will guide you through 9 theatrical sets on a walk-through journey. With state-of-the-art special effects and engaging storytelling get ready to immerse in the fun from the second you walk through the door by the amazing and realistic looking actors & scenery. This is the ultimate live action expedition!
Looking for something different whilst in San Francisco? If the answer is yes then the Dungeon is a 'must do' attraction for you.
This is the ultimate live action expedition! Through an amazing storytelling journey, vibrant sets, authentic costumes and detailed make-up, The San Francisco Dungeon sheds a whole new light on San Francisco's rich and authentic history. Being scared has never been more fun!
The Dungeon is a historical and theatrical attraction popular in Europe. It is the first ever North America attraction in San Francisco and only opened its doors in summer of 2014. The hysterically horrible engaging stories will take you through an exciting mix of 9 live actor led shows as you experience re-enacted scenes from the colourful Gold Rush era to authentic tales about the Barbary Coast criminal gangs, Alcatraz, the Shanghai Kelly boat ride and more.
San Francisco's unique background makes it the perfect location for the launch of the first-ever North America Dungeons Attraction. Perfectly located in San Francisco's historic Fisherman's Wharf, this unique experience will highlight 200 years of San Francisco's colourful past with dramatic and theatrical story storytelling. The San Francisco Dungeon will guide visitors through theatrical sets on a walk-through journey. Get ready to immerse in the fun from the second you walk through the doors by the amazing and realistic looking actors & scenery. The Dungeons are calling you!
9 live actor led shows -
The Descent.And so your journey begins right here with this gripping tale. Descend into the deep depths of the Dungeon in an old mine shaft elevator. The creepy creaking floor and rattling chains are checked for safety once every 50 years so don't worry. A local businessman and showman, our charming friend Jack will give you a warm welcome and prepare you for what lies ahead. You will go 200 years into the horrible truth behind San Francisco's authentic past. Phineas does like to get up to some real mischief sometimes, but he should be on his best behaviour for your arrival.
Gold Rush Greed In 1848 the American frontier was dominated by Violence and corruption, you are immersed into the clash between natives and new settlers. Father Francisco Palou details the development of the area – gamblers, thieves, harlots and corrupt politicians have taken over these once peaceful lands! The clash of Spaniards, Gold Fever, and the natives has had unsettling effects on the Bay Area. Fingers crossed you don't come across a paranoid frontiersman!
Lost Mines of Sutter's Creek Just northeast of San Francisco in the Sierra Foothills is where the Gold Rush of 1849 traces its origins to. It was here in Sutter's Creek that the first traces of gold were found. Do you dare enter the mines to search for any remaining gold to appease the prospector? Turn left, then right, then three lefts and then a U-turn. You got that? But wait, where was the entrance? Or the exit? Don't get trapped in the disorienting mirror maze as the dynamite explodes!
Gangs of San Francisco If you are ready to Head down the rough Kearny Street – the gang called The Hounds rules this area. They'll be sure to teach you a thing or two about political persuasion, that's for sure! These things and hoodlums, politically controlled by the American Party, claim they "know nothing" and extort protection money.
The Court Room of San Francisco Who will be found guilty in the Mission San Francisco of Assisi as Former mayor & judge of San Francisco Alcalde Meade, shows no mercy towards heinous (and hilarious) crimes! In the words of Judge Meade "Give 'em a fair trial, and hang 'em high!"
Miss Piggott's Saloon The famous Miss Piggott welcomes you to come on in and have a seat on her benches and chairs. Don't worry about the floorboards, they are DEFINITELY not a trap door or anything… Miss Piggott's old friend and business partner, Shanghai Kelly, might stop by for a visit if you're lucky. He loves fresh talent, I mean, faces such as yours.
Shanghai Kelly's Boat Ride Guess what…. You've been shanghaied! Miss Piggott tricked you and you've been sold off to Shanghai Kelly, an infamous crimper, to work as a sailor on a ship. Down a secret passageway to the wharf, you and your fellow crewmates take a deep journey through the black waterways to meet your fate. Welcome to the 70s! The 1870s, that is. These ships need sailors just like you!
Chinatown Plague There was you thinking that the Plague only happened in Europe. Well this vulgar infection made a resurgence in San Francisco in 1900. Lucky you! After vehemently denying its existence, government officials finally have admitted the presence of the Black Death in San Francisco. But these dark quarantined streets of Chinatown are hiding more than infected rats and rotting bodies…
The Ghosts of Alcatraz These eerie and mysterious prison walls hold the most dangerous military fugitives. Back before Alcatraz was a federal penitentiary with the massive Citadel that exists today, it was a brick jailhouse that served as a military prison in the 1800s. Hear the tale and watch your friends get spooked as you brace yourself for the clink!
Experience Includes
Admission to San Francisco Dungeon
9 amazing live actor shows which include The Descent, Gold Rush Greed, Lost Mines of Sutter's Creek, Gangs of San Francisco, The Court Room of San Francisco, Miss Piggott's Saloon, Shanghai Kelly's Boat Ride, Chinatown Plague, and The Ghosts of Alcatraz
One thrill-filled adventure through San Francisco's murky history
200 years insight of San Francisco history.
1 dark boat ride
Departure location
145 Jefferson Street, San Francisco CA 94133
Start times
Open 365 days a year from 10.00am; first show 10.30am. Last admissions are 8.00pm Sunday - Thursday and 9.00pm Friday - Saturday.
Duration
Please allow approximately 1.5 hours for this attraction.
Terms & Conditions
This attraction is not recommended for children under 10. Any child under the age of 13 must be accompanied by an adult. Children under 4 cannot be admitted.
Due to height restrictions on the raft experience anyone under 48" will not be able to fully participate.
This is a timed attraction with entrance on the hour and half hour.
No advance reservations are required. You will be sent an open-dated San Francisco Dungeon Admission voucher, allowing you to redeem your ticket on the date/time that best suits your itinerary. Please note photo I.D is required to collect your tickets.
Free cancellations for bookings cancelled with the supplier before your holiday departure date. No refunds are given after this time.